When it comes to customized home comfort, options matter. Evans Mechanical offers a complete line of ductless systems designed to make practically any space more comfortable from one room to multiple rooms, depending on the application. Ductless systems are comprised of an outdoor unit connected to an indoor unit without the need for preexisting ductwork. These systems are compact and versatile. They come in a variety of sleek, unobtrusive styles that allow you to personalize the look and feel of a room based on your needs.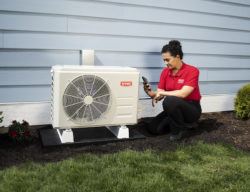 With ductless, address hot and cold spots in your home, get more use out of your all-seasons room, or make working in the basement, garage, or attic more comfortable with a ductless system.
What is Ductless?
Ductless mini-split systems accommodate those spaces where conventional HVAC isn't an option. The versatility and compact size of this innovative modern alternative is ideal for addressing those rooms that are difficult to heat or cool, additions, all-season rooms, basement, garage, attic, or virtually any living or working space. Choose a configuration that targets a single room, multiple rooms, or the entire house. When you partner with Evans Mechanical, the options are nearly endless and always deliver a rewarding result.
As a Bryant Factory Authorized Dealer, Evans Mechanical offers an impressive line of ductless systems designed for the home and featuring advanced inverter technology. Comprised of a single outdoor unit connected by way of a conduit to one or more indoor air handlers, ductless installation requires no major renovation. There's no mess or damage. Our experienced, NATE-certified technicians most often have your new system up and running in a matter of hours.
Ductless air conditioners and heat pumps are extremely quiet, energy efficient, and the ultimate in-zone control.
Use Ductless so you don't waste energy and money by heating or cooling an unoccupied room.
Take advantage of built-in WiFi, smart sensor technology, custom humidity control, customized and occupancy sensors that can direct airflow toward or away from you. We are happy to explain options, help you determine the ideal configuration for your exact needs, and handle everything from installation to seasonal upkeep and repairs. We offer helpful financing, stand behind our work 100%, and ensure Enjoyable, Excellent, and Efficient service across Eureka, Myrtletown, Cutten, Bayview, Arcata, Fortuna & Mckinleyville, CA.
Furnace Repair, Heating Service & Furnace Installation

Myrtletown, CA, Eureka, CA & Cutten, CA
Furnace Repair & HVAC Installation in Bayview, CA
Furnace Repair

∴

Furnace Service

∴

HVAC Service