Indoor Air Quality (IAQ) is an important aspect of our home comfort specialization. We believe that breathing better air, eliminating rooms that are "too hot" or "too cold," and lowering your utility bills all add up to your perfect comfort. Our home comfort specialists are dedicated to informing you about which services are best for your home.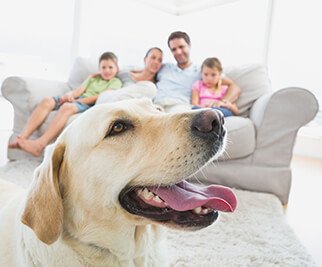 Our IAQ services include:
Air Purification
Dehumidifiers/humidifiers
Duct Cleaning
Ductwork Replacement
Zone Dampers and Control Systems
We also provide indoor air quality services in Cutten and Samoa.
COMPLETE HOME COMFORT IS ABOUT MORE THAN JUST TEMPERATURE—IT'S ALSO ABOUT MAINTAINING GOOD QUALITY INDOOR AIR.
Dusty, dirty homes at any temperature can mean discomfort in Eureka. The air in today's tightly-sealed, well-insulated homes can become stale as the same indoor air is circulated and re-circulated. In fact, indoor air quality is among the Environmental Protection Agency's top 3 health concerns. The agency reports that with dust, pollen, pet dander, mold, skin flakes, chemical fumes, cigarette smoke, and more, the air inside your home can be 2-5 times dirtier than the air outside.
Although we usually can't see them, air pollutants are all around us, already inside our homes, and waiting to come in from outside. From our yards to our kitchens, dangerous air pollutants threaten our home air quality. Plus, each season brings its own dangers, from mold in the fall and winter to pollens and high humidity in the spring and summer.
Fortunately, Aprilaire® offers a wide range of dependable air quality solutions, including humidifiers, ventilators, UV lamps, air purifiers, and electronic air cleaners that together can eliminate up to 99.9% of the pollutants threatening your home's health.
Learn more about how the pollutants in and around our homes affect our indoor air quality and what you can do to improve yours.
A Perfect Solution for Cleaner, Fresher Indoor Air in Eureka CA
Evans Mechanical, as an Aprilaire® dealer, is the key to providing the right solutions for your indoor air quality needs. With today's rising concerns about air quality, allergens, and respiratory illnesses, more and more homeowners are looking for solutions to improve their indoor air quality.
Let's Clean the Air
But improving indoor air quality doesn't stop with just having the right products. Evans Mechanical has completed a course and passed a comprehensive test covering a wide variety of Indoor Air Quality topics including:
The importance of indoor air quality
Types of indoor air quality problems
Identifying the right solution for each type of problem
Limitations of portable/room purification devices
Principles of air filtration
Industry standards for filtration and ventilation
Indoor air quality technologies
Aprilaire's collection of IAQ products
And because not all IAQ products are created equal, Evans Mechanical understands the benefits of using Aprilaire IAQ products and will explain the differences between various technologies so that you can make an informed decision.
Comfort You Can Rely On
By choosing Evans Mechanical, you are assured that indoor air quality problems are properly identified, the solutions carefully selected and the installation is completed to the highest standards, making the investment the best option for your home and family. It's experience you can trust, and expert attention that you deserve.
AC Maintenance, Heater Repair & Furnace Service

Myrtletown, CA, Eureka, CA & Cutten, CA
AC Repair & Furnace Installation in Fortuna, CA
Furnace Repair

∴

Heating Service

∴

HVAC Installation