At Evans Mechanical, we offer expert HVAC services, including heat pump repair in Eureka, CA. We understand the unique climate challenges faced by residents in our beautiful coastal city. With our top-notch heat pump services, we are here to ensure your indoor comfort all year round. As your local HVAC specialists, we take pride in delivering efficient and reliable solutions for your heating and cooling needs.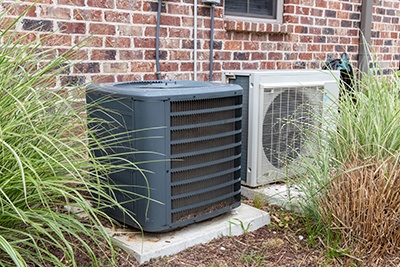 Heat Pump Services in Eureka CA
Heat pumps are versatile HVAC systems that provide both heating and cooling for your home. They work by transferring heat from one place to another, making them incredibly energy-efficient and environmentally friendly.
Here are some key benefits of heat pumps:
Energy efficiency
Year-round comfort
Environmentally friendly
Consistent indoor temperatures
Lower operating costs
Heat pumps are known for their high energy efficiency. They can produce up to three times more heat than the energy they consume, making them a cost-effective solution for your home's comfort. They offer both heating and cooling capabilities, making them ideal for the mild climate of Eureka. They can keep your home warm during the cooler months and cool during the warmer months.
Since heat pumps transfer heat instead of generating it through combustion, they produce fewer greenhouse gas emissions, contributing to a greener environment. They also provide steady and even heating or cooling, eliminating hot or cold spots in your home. With their high energy efficiency, they can lead to significant cost savings on your energy bills over time.
When you opt for a heat pump replacement, you're not only upgrading your home's comfort but also embracing the latest advancements in energy-efficient technology. Newer models offer enhanced features that can lead to even greater energy savings and improved performance.
If you're unsure whether a pump system is the right choice for your home, there are several scenarios you should consider. Firstly, if you're seeking a single system that can efficiently handle both heating and cooling, a pump might be the perfect solution. Additionally, if you're looking to upgrade your current HVAC system to a more energy-efficient option, a pump offers remarkable efficiency benefits. For those residing in moderate climates like Eureka, where maintaining balanced comfort is essential, heat pumps excel at providing reliable performance throughout the year. Moreover, if your existing pump is showing signs of wear and reduced efficiency, it might be time for a pump replacement.
Our expert technicians at Evans Mechanical can assess your current system's condition and recommend whether a replacement would be more cost-effective than continual repairs. Lastly, if you're committed to reducing your carbon footprint and adopting environmentally friendly HVAC solutions, a pump aligns perfectly with your goals.
We also provide heat pump services in Fortuna, Arcata, McKinleyville, and surrounding areas.
Heat Pump Repair in Eureka CA
At Evans Mechanical, we are your trusted partners for all things HVAC, and we specialize in heat pump services in Eureka. Our commitment to excellence and customer satisfaction sets us apart from the competition. Here's why you should choose us for your pump needs:
With years of experience in the industry, our HVAC technicians are skilled in pump installation, repair, and maintenance. We stay updated with the latest industry trends and best practices to provide you with top-tier services. Our team will assess your specific comfort needs and recommend the right pump system that fits your requirements and budget. When you choose us, you can expect timely and reliable solutions for your pump needs. We strive to exceed your expectations with every service call.
We believe in transparency, and our pricing is upfront and competitive. You won't have to worry about hidden fees or surprises when you choose us for your pump services. Our pump solutions are tailored to provide optimal comfort for Eureka residents. When it comes to pump services in Eureka, Evans Mechanical is your go-to choice.
Contact Evans Mechanical today to schedule your HVAC services, including heat pump repair in Eureka, and take the first step toward a more comfortable home.
HVAC Service, AC Maintenance & Heating Service

Myrtletown, CA, Eureka, CA & Cutten, CA
Heating Installation & Heating Service in Willow Creek, CA
AC Maintenance

∴

HVAC Service

∴

Furnace Repair